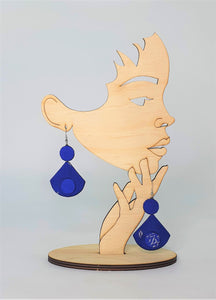 HANGING CIRCLE ON FAN ROYAL BLUE SILK EARRINGS Khmer Cambodian
Hanging Circle on Fan Royal Blue Silk Earrings
These drop earrings are lovingly made by hand using hand spun and loomed silk. These earrings have been delicately hand sewn together and hang on white metal hooks with pattern of a circle on a fan.
The light plays beautifully with our Cambodian silk and the circle and fan can show difference shades all at the same time.
Cambodia's golden silk is spun from the cocoons of golden silkworms, rather than the white ones found elsewhere in the world. Our silk is washable, souple, strong, soft and shiny. It is cool on a hot day and warm during the cold season, lightweight and pleasant to wear.
These earrings measure 4cm wide and 5.5cm length including hook.
Handmade in Cambodia.
Fair Trade, Eco-Friendly, Sustainable.
Washing instructions for silk 
1. Place the garment in cold water with a gentle detergent, as silk is like hair, a gentle shampoo will also do the trick.
2. Give it a stir, and let it sit for just a few minutes. Silk releases dirt quickly, so the process doesn't take long.
3. Next, drain the soapy mix and rinse with cool, running water.
4. Pat off excess water with a towel and allow to dry before putting away.
Our Amazing Cambodian Artisans
We have the most beautiful cotton, kapok and silk products from Cambodia. These products are all made by hand by artisans affected by HIV Aids or landmine injuries and their families.
They are often ostracized in the cities and left to beg from tourists. Sadly, I saw this first hand on my visit to Cambodia.  This forces them to move to more remote areas.
I found these products in an Artisan's Market in Siem Reap in a small stall selling to tourists and this is where my journey with these products started.
The artisans are from 5 different villages in 5 different proveniences of Cambodia, each one providing different products. Some only doing bags, some jewellery, others providing raw and fine silk, scarves and shawls, and blankets.
---
We Also Recommend